Gathered heroes, it's time to once again embark on a refreshing adventure in the land of Barcadia — this time in the new retail edition. Enjoy the familiar quality of Barcadia in a streamlined board game built for the masses. Now Heroes of Barcadia will live on forever!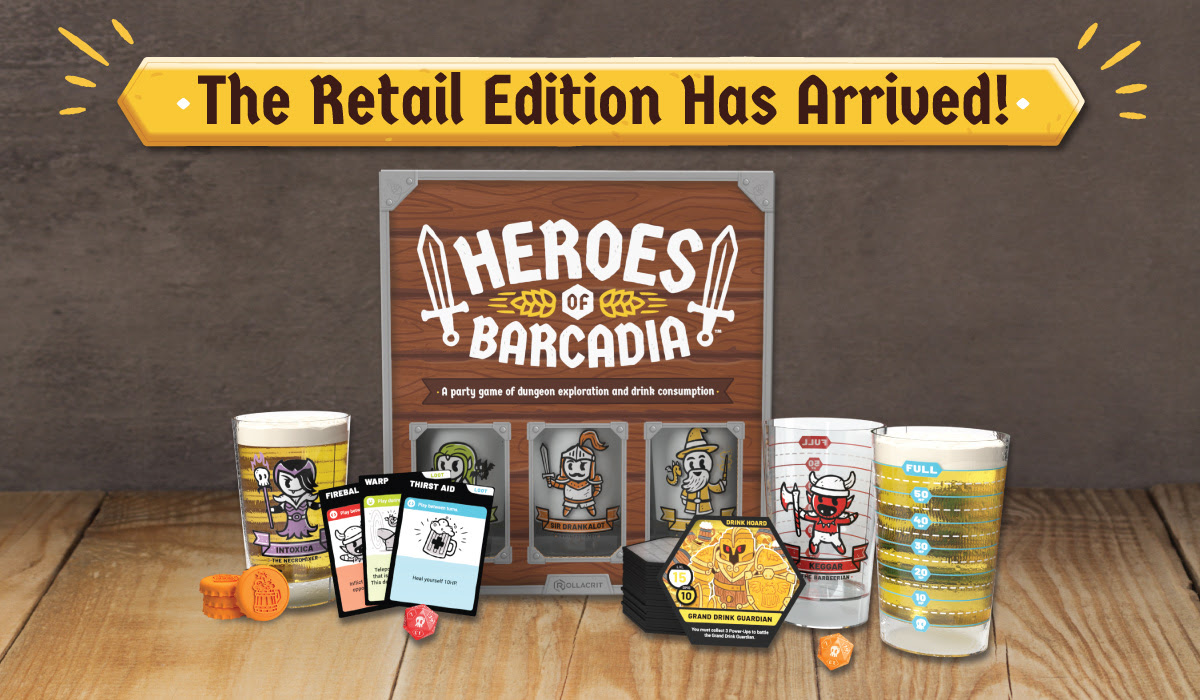 The retail edition of the Heroes of Barcadia Base Game and Party Pack are Rollacrit's standard version of the game, designed to be sold on your favorite retailer's shelves. It's the same great game packaged for retail. That being said, there are a few differences between the Kickstarter version and the retail edition.

Differences from the Kickstarter Version
The main difference between our two editions is the absence of all the Kickstarter Exclusive bonuses (including cards and the different packaging). We promised our Kickstarters these unique bonuses would be exclusive to their version of the game, and we intend to honor that promise. That being said, the retail edition is still a blast!

Mixing and Matching Versions
The retail edition of Heroes of Barcadia Base Game is meant to be played with the retail edition of the Party Pack. Likewise, the Kickstarter Edition Base Game and Party Pack are designed to be played together. Mixing and matching the two different versions is not recommended. However, either edition can be upgraded with our add-ons, including the popular glass set, dice tray, and straw pack.


A Cozy Heroes of Barcadia Update
While we're on the subject of "newness," you may have noticed that the Rollacrit site feels a lot more comfortable lately. Almost like it's been invaded by something soft and adorable. Well, it's true. We've taken two of our most popular Heroes of Barcadia monsters and given them life as adorable plushies.


Meet the Booze Ooze Plush and Mimosasaurus Plush. They may prowl dungeons during the day, but in their off time, they're pretty adorable.


Well, that's it for new updates. Check out a handy list of everything new below!

Prefer your adventures to be a little more… exclusive? We still have a few limited Kickstarter Editions left in stock as well.